A Buyer's Guide to One Call Alert
Do I need a medical alert system?
This year 13.5 million people age 65 and older will fall. If you or a loved one experience a medical emergency, time is of the essence. That's where One Call Alert can help, connecting you to the right help for the situation, 24 hours a day, 365 days a year at the push of a button.
Falls result in more than 2.8 million injuries treated in emergency departments annually, including over 800,000 hospitalizations and more than 27,000 deaths
Not sure which system is best for you?
Today, there are many stylish and functional options to fit any lifestyle. GPS tracking ensures that you will be found in the event of an emergency while at home or out running errands. Talk to a safety advisor to make sure you are choosing the right system for you.
Do you live alone?

According to the American Academy of Orthopaedic Surgeons, falls are the leading cause of ALL injuries to seniors. In fact, nearly two million seniors will visit the emergency room this year due to a fall related incident. In the event of a fall, a senior may not be able to reach for the phone or call for help. With just the push of a button, a One Call Alert emergency operator will be on the line to help.

Do you leave the house by yourself?

The One Call Alert systems are designed with the customer in mind and are very easy to use. The Mobile On-The-Go Mobile system consists of an all-in-one pendant that has a built-in microphone and speaker. In the event of an emergency, you just press the button on the Mobile On-The-Go unit, and the system automatically calls our professional emergency call center. An Emergency Operator will speak to you through Mobile On-The-Go and assess your situation. Our secure database maintains the information you provided for emergency contacts, and we will follow your approved call protocol to get you the help you need. Whether it is an emergency needing immediate medical attention or a minor issue just needing the assistance of a local family member or neighbor, we will be there for you.

Do you have a history of falls?

One Call Alert is dedicated to delivering the highest quality of customer service in our industry. We provide all of our customers with a dedicated Customer Care Representative that can be contacted with questions, updates to emergency contact information and more. We are honest and upfront about all costs. There are absolutely no hidden fees or contracts. We want to keep you as a customer, but it should be your choice to stay with us simply because we are doing a great job. When an emergency happens, rest assured that our highly trained staff of professional Emergency Operators is ready to be there and get you the help you need.

Do you have a medical condition?

Our services help people remain independent at home and away. If you or a loved one falls into any of the categories below, you should consider One Call Alert:
• Have a history of falling
• Are more than 70 years of age
• Live alone or are left alone for extended periods by a caregiver
• Use mobility assisted devices (walkers, canes, crutches, wheelchairs)
• Have a history of medication management problems
• Have been hospitalized within the last 12 months
• Have sensory concerns (vision, hearing)
• Have cognitive concerns (dementia, Alzheimer's)

Do you have pets at home?

Pets are known as beloved companions that provide entertainment, company, and in some cases, protection. Outside of these common pet characteristics, are benefits that can enhance any senior's lifestyle and well-being. For a senior, a pet can help reduce stress, lower blood pressure, ease loneliness, and in some cases increase physical activity. For example, by owning a dog, physical activity and social interactions may increase from active dog walking and conversations with other pet owners.
It's simple. Press a button, speak with an emergency operator & help is on the way.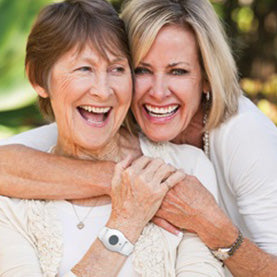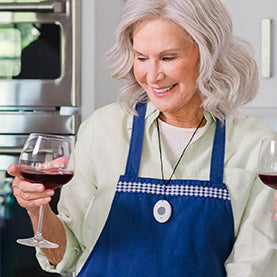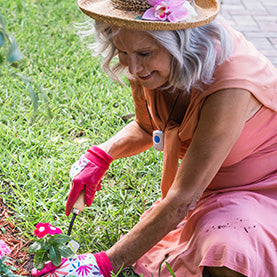 One Call Alert System Pricing
Research before you buy


Trust One Call Alert
BBB Accreditation

The BBB rates businesses for overall good practice. Choosing a PERS provider with an A+ rating ensures you will get the servics you signed up for.

No Contracts

Beware of 3-year contracts or "price locks". The top PERS companies will not require any kind of contract. Look for published prices and read the fine print.

Emergency Call Center

Make sure the PERS provider has an emergency response center with multiple locations in case of disaster. Multiple locations ensure help is always available no matter what.

Easy Set-up and Testing

Set-up should be as easy as plugging them in and pressing the Help button to test. PERS providers should never charge you for testing the equipment, beware of extra testing fees.

Flexible Payment Options

Top PERS providers will offer a variety of flexible billing options. Monthly, Quarterly, Semi-Annual and Annual payments are standard. Annual plans may result in additional savings.

Equipment

One Call Alert sells monitored medical alert systems with multiple ways of pinpointing your location in an emergency. Be sure that the device you are researching is monitored 24/7 365 days a year. 911 buttons do not provide this service.
Need help choosing a medical


alert system?

We know that finding the right product among all of the different options can be difficult. But by answering just a few simple questions, we'll guide you to the medical alert system that has the exact features you're looking for.