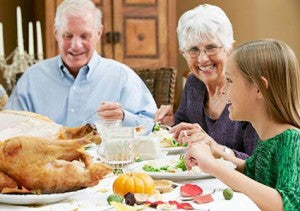 During National Family Caregivers Month, One Call Alert was unexpectedly given a glimpse at what an older, wiser generation is thankful for this holiday season.
In appreciation for the work that family caregivers do, take a moment and ask a senior relative, neighbor, or friend, what they are truly thankful for. Then, share it with us on our Facebook page. "Working to provide peace of mind to thousands of seniors across the country has given us the pleasure and opportunity to learn and understand the values of a generation. It has helped us understand the needs of our clients and their families, but it has also put our lives in perspective. We often forget that there is so much we can learn from those who have simply been on this planet long enough to really get what it is all about," said Alicia Karim, Director of Customer Care for One Call Alert.
 So today, just a couple short weeks before the start of the holiday season, marked by the turkey, football, and family gathering at Thanksgiving, One Call Alert would like to share with you some of the responses we received:
"Family of course. While my son doesn't get along with my daughter so much and I wish I saw them both more often, the story of their lives is my favorite adventure. Through their struggles and success, I see them grow, learn and find their happiness in the world. Now with the grandkids, it happens all over again. Nothing makes me happier than seeing my children find their smile." – Sarah Lee T., 79
"Medicine, and my doctors. I am sure I don't tell them enough and there are probably people out there, researchers and the like, who I have never thanked, but I'm speaking with you today because of medicine and doctors. Two weeks ago I saw my granddaughter get married because of medicine and doctors. Last year I had the privilege to be there and hold my beauty's hand through her last day because of medicine and doctors. You know, I probably got the better part of a decade more time with my wife than I probably should have. She was the greatest gift of my life and they gave me more time with her." – Skip W., 82
"Forgiveness my friend, forgiveness. I don't mean forgiveness in the religious sense, though I suppose I appreciate that as well. I mean it in a more personal sense. We all make mistakes, lord I know I have in my life, but being able to forgive allows us to have deeper relationships with those who love us. Sometimes it is those terrible mistakes we make that mold who we become and it takes special people to move past the mistake and appreciate the growth. Those are the people who love you; and those are the people you can love without fear." – Paula G., 88
"The government. No really, I don't mean that as a joke. As a young girl, I grew up in a much different place. Life was not good for a woman. Expectations for my life were low and not happy. Education, reading, love, freedom, hope, I had none of this. Well, none until my mother fled, hid on a ship, and brought me to this great country. I went to school. I learned to read and I read as many books as I could get my hands on. I even became a librarian for a time. I found love and married a man who sought nothing from my parents. He loved me. I don't worry about the petty squabbles, the government of this country, the freedom it defends, I am thankful for all of that."- Isabelle A., 91
"Technology. I know that is somewhat broad, but it is amazing what can be done today. As I sit in my living room here in Victoria, Texas, I was able to sing happy birthday to my great-granddaughter living in California while watching her blow out the candles on her cake. I can't always travel, but I can still be there and have the memory. I can send a letter to an old friend and she can get it seconds later. I have access to so many books. I can watch family movies that my son put on my computer over and over. I can hear my Charles tell me he loves me and tell me everything will be ok like the time our car broke down on our way to the rodeo in Houston. I miss my Charles very much, but I am thankful for how easy it is to refresh my memories of him." - Mary N., 76
"My dear friend Sally. Sally was always there for me. We grew up two houses away. We were in the same class and loved many of the same things. She was my sister, though not by blood, but maybe by more. She was there for my first love which of course became my first heartbreak. We shared laughs and cried a few times too. I was there for her when her parents split. She was there for me when I lost my son. We were each other's maid of honor at the weddings. She helped me move out and move on when things fell apart. We raised our kids together like two mamas for each family. She is a part of my soul and I a part of hers. She not doing too well right now and I sure won't take our days left together as friends for granted." - Madelyn R., 77
Before the hustle of Black Friday begins, before the scheduling stress of holiday parties, before reindeer bells and jolly verses flow from the radio, take a moment to stop and have a conversation with someone much older than you are, thank them for their wisdom, and appreciate them for it.
Happy Thanksgiving, everyone!