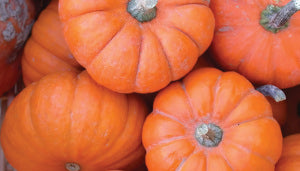 Forget traditional pumpkin pies! These days, the pumpkin craze has taken over everything from lattes to yogurt.
The good news is pumpkin is a great food to add to your diet during the autumn months when it's in season. Among the health benefits of this orange gourd are added fiber and beta carotene. Fiber doesn't just help with the digestive tract, it also fills you up and can lead to healthy weight loss. We all know carrots are great sources of beta-carotene, well pumpkin is also rich in the nutrient that converts to vitamin A in the body and can help improve eyesight. Beta-carotene also helps protect skin from UV rays. To get you started with your pumpkin culinary adventures, here's a recipe for a delicious soup.
Makes: 4 servings Ingredients
1 can white beans (15 ounce, rinsed and drained)
1 onion (small, or 2 tsp. onion powder)
1 cup water
1 can pumpkin (15 ounces, plain)
1 can chicken or vegetable broth, low-salt (14.5 ounces)
1/2 teaspoon thyme (or tarragon)
salt and pepper (optional, to taste)
Directions
Blend white beans, onion, and water.
In a soup pot, mix bean puree with pumpkin, broth, and spices.
Cover and cook over low heat about 15 to 20 minutes until warmed through.
Sources: Obenschain, C. (2014, October 21). 6 Surprising Health Benefits of Pumpkins. CNN Health. USDA. (n.d.). USDA What's Cooking? Pumpkin Soup. Retrieved from USDA What's Cooking?: http://www.whatscooking.fns.usda.gov/recipes/supplemental-nutrition-assistance-program-snap/pumpkin-soup