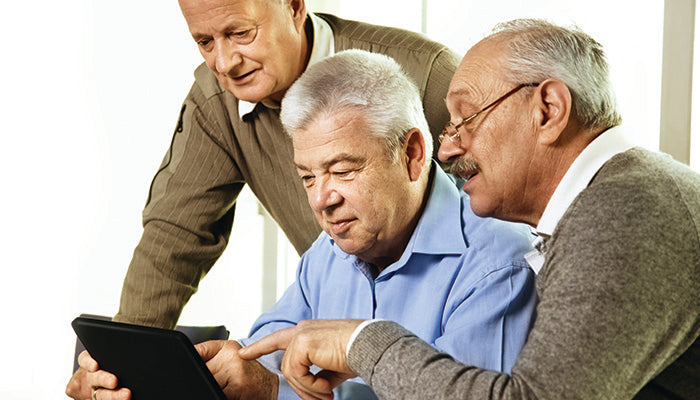 It seems like everyone is online these days. The Internet has blossomed from a digital information depository to a medium through which family and friends keep in touch.
With the days of handwritten letters waning quickly, older adults are embracing technology to connect with their children, grandchildren and friends who live down the street or across the country. In fact, the Pew Research Center states that 59 percent of seniors 65 years and older were going online in 2013. But what if you are not familiar or comfortable with technology? How do seniors get started and get comfortable with technology in the digital age?
Text Messages
One of the biggest changes over the past 20 years has been the transition from voice calling on a phone to sending text messages. It has quickly become the preferred method of communicating with many people. Perhaps your own children and grandchildren send you text messages on your mobile phone, but you are not quite comfortable with it. This blog post from Boomer Tech Adventures walks through the process from selecting a contact to composing the message.
Video Calling
As many types of phones as there are on the market, there are also video calling applications (apps) that you can use on your personal computer (PC), tablet, or mobile phone. Two of the most popular and fairly easy to use are FaceTime and Skype. The former is available only for Apple products like the iPhone and iPad, but it's very simple to use. According to the website, "FaceTime works right out of the box—no need to set up a special account or screen name." While Skype it is a little more complicated to get started—you need to create a login—it is also more widely accessible with any brand of device. You can download it to your PC or get the free app for your tablet or mobile phone. This step-by-step guide walks through setting up Skype.
Social Media
This form of communication has been around for nearly 20 years, but what exactly is it? Simply put, social media or social networking refers to websites or apps that connect people. The biggest one out there and the name you probably have heard most is Facebook. What started in 2004 as a way to connect students at Harvard, the network has grown internationally and is a great place to keep in touch with friends and family, especially those who live in other cities. This how-to video walks through the basics of getting started and getting going with Facebook. In addition to finding and keeping up with friends and family, you can follow companies you like and find out more information about them.
Computers at Home and On the Go
There is no shortage of devices with an Internet connection. You can go online sitting at your home computer, or virtually anywhere with a handheld tablet or phone. Major computer manufacturer HP creates personal computers (PCs) with seniors in mind by actively consulting with seniors to design their products. Some features include buttons that are sensitive to lighter touches, single-handed operations, monitors that hinge so those using bifocals or trifocals can see better, and more. A great cross between a traditional laptop and a tablet is the Google Chromebook. It is an inexpensive, lightweight, portable laptop that is easy to use, especially if you plan on using it for browsing the Internet. Tablets make accessing the Internet and various internet applications (Apps) even easier. We all know the name iPad, but there are so many other options on the market that offer benefits as well. The Kindle Fire tablets are a less expensive option that was born out of their popular electronic reader and there are several models from which to choose. The Samsung Galaxy tablets also offer a variety of sizes and come with the Google Play store which has just as many apps as are available on apple products.