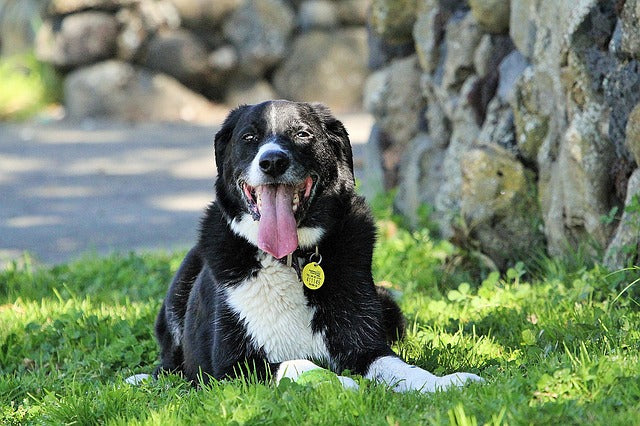 Study Shows Relief from Sundown Syndrome
Researchers at the University of Nebraska Medical Center College of Nursing have found that dogs can provide Alzheimer's patients relief from sundown syndrome. The syndrome, which happens in early evening, causes restlessness, confusion, aimless wandering, agitation, and aggressive behavior such as hitting, kicking and biting. Its cause is unknown. We wanted to provide data to show it is worthwhile to use trained and certified therapy dogs to improve the quality of life for Alzheimers patients, said Mara Baun, DNSc., professor and associate dean for research, UNMC College of Nursing. We think this fits for a non-drug method of treatment to reduce inappropriate behavior which can lead to social isolation. Barbara McCabe, Ph.D., associate professor of nursing, UNMC College of Nursing Lincoln Division, also was investigator of the study which focused on 28 patients in three Midwestern extended-care facilities with Alzheimers disease or a related disorder. Results were published this year in the Journal of Psychosocial Nursing.

Dr. Baun has done about 20 studies on the benefits of companion animals and makes presentations worldwide on her findings. In the early 1980s, she and colleagues conducted one of the original studies which found petting dogs could decrease blood pressure in humans. Pets are used successfully in health care to reduce stress and provide affection and companionship with those who have reduced ability to socialize. Sundown syndrome is well-known to caregivers of Alzheimers patients. Agitated patients often become uncooperative with evening routines, making management of their care difficult for health care staff.

Aggressive behaviors may lead to alienation, loneliness and fear, and ultimately may result in increased aggressiveness. During this sundown time when a person with Alzheimers can be most agitated, we have found a dog can be effective in distracting them from that behavior, Dr. Baun said. We found if the dog is present, some patients benefit by appropriately focusing their attention and decrease their need to be agitated. Its sometimes hard to settle patients down. Its a benefit to them and staff as well. Sundown syndrome may be caused by changes in lighting, the day coming to an end and the feeling of going home, Dr. McCabe said. The evening may trigger old memories or maybe they are reacting to an increase in activity by staff.

People with Alzheimers cannot always sort out the things going on around them. Dogs best suited as therapy dogs are friendly, tame and obedient large dogs such as golden retrievers and must be trained and certified. The dog used in the study was Sadie, a Golden Labrador mix. Therapy dogs may produce positive effects by inducing relaxation and distracting patients from agitation, according to the research findings. Researchers say the presence of a therapy dog evokes looks, smiles, leans and touching from patients, indicating interest and pleasure with the dogs appearance. It matters little to a pet if the persons body has deteriorated or if the same stories are repeated over and over, Dr. Baun said.

All humans need to be touched and to touch others. The therapy dog can provide the missed physical contact through petting, hugging and caring for the dog. The findings could benefit patients and those who care for them. In 1998, the Alzheimers Association estimates 4 million people have the disease and by 2050, it will increase to an estimated 14 million. Alzheimers is a slow, progressive brain disorder that impairs memory, reasoning, and personality. Its cause is unknown. Progression of mental deterioration and agitation of Alzheimers disease is a common reason why families find it necessary to place the patient in a long-term care facility.

There is no known cure or treatment for Alzheimers disease although research of non-drug interventions is underway to manage its behavioral symptoms. Health care staff are aware of this increased time of agitation and do their best to cope, Dr. Baun said. Alzheimers is a terrible disease. Social isolation is a concern in Alzheimers patients. Family visits may not be possible and staff are limited in the time they spend with residents. Although patients lose their ability to initiate relationships, they still need social interaction.

A therapy dog can help fill some of these needs, Dr. Baun said. Dr. McCabe works with Alzheimers patients in a special care unit at Madonna Rehabilitation Hospital in Lincoln, Neb., one of the three sites at which the study was conducted. She said a pet in the care unit makes the atmosphere more like home and makes it easier for families to visit loved ones. It helps the family during visits. If a visit isnt going quite how the family expected, it takes a little of the tension off and keeps people smiling, including the staff.

Pets in Alzheimers units are becoming the norm but theres still not as many as there should be, Dr. McCabe said. She said home caregivers of Alzheimer's patients also might want to consider a therapy dog. Because they are taking care of Alzheimer's patients, caregivers also become isolated. They can't go anywhere, so it may be good for them too, she said. 

One Call Alert is the most trusted medical alert monitoring service for elderly people suffering from Alzheimer's or other dementia related condition. For more information, please visit www.OneCallAlert.com.