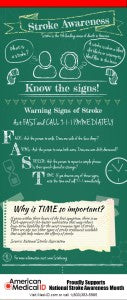 May is National Stroke Awareness Month, which is an annual campaign to increase stroke awareness and to educate Americans that stroke is largely preventable, treatable and beatable.  While stroke is the No. 4 cause of death and leading cause of disability in the U.S., many Americans do not think of stroke as a major health concern.  While there has been a lot of progress,  there's still a long way to go to end stroke.
History of National Stroke Awareness Month
National Stroke Awareness Month takes place in May every year. On May 11, 1989, President George H. W. Bush signed Presidential Proclamation 5975 designating May as National Stroke Awareness Month with the goal of increasing public awareness of stroke in an effort to conquer it.
Over the years, public education campaigns have been conducted during May to increase awareness of different aspects of stroke that directly affect specific populations, such as women or those at high risk for stroke.  There is a great movement of stroke champions already engaged in heightening the awareness of stroke in the U.S. By joining the thousands of people already committed to stroke awareness, you adopt stroke as a cause and put everyone further down the road to reduced incidence.
What Does it Mean to Raise Awareness?
Raising stroke awareness is about:
Elevating stroke in the mindset of everyone in the U.S. so more people care about supporting stroke research and education.
Ensuring that everyone understands the emotional, physical and financial impacts that stroke has on our country.
Influencing others to improve their health by sharing personal stories of how stroke has already affected the lives of so many.  

Diagnosis includes epidemiology, early diagnosis, and biomarkers. 

Talking to legislators and thought leaders about how their decisions can positively affect survivors throughout their recovery. 

Providing a platform for the more than 7 million survivors and their families to discuss their experiences and live with dignity. Stroke survivors possess the most influential and inspiring knowledge needed to make an impact on society. Their voices are so important.
Raising awareness knows no boundaries. Even the smallest efforts matter.  Learn More – National Stroke Association
Know the Warning Signs of Stroke
Drooping face or uneven smile
Slurred speech or difficulty understanding speech
Sudden numbness or weakness of the leg, arm or face
Sudden confusion or trouble understanding
Sudden trouble seeing in one or both eyes
Sudden trouble walking, dizziness, loss of balance or coordination
Sudden severe headache with no known cause
If someone shows any of these symptoms, immediately call 9-1-1 or emergency medical services
Sources: National Stroke Association, American Stroke Association,
_________________________________________________________