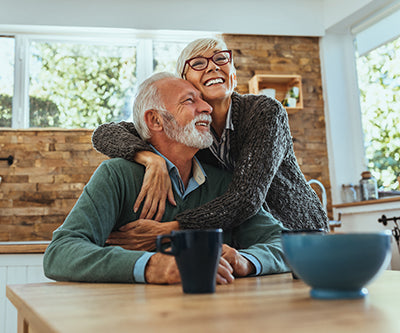 Many adult children make the mistake of trying to force their parents into getting a medical alert system. Well, do you remember when your parents tried to teach you stuff when you were young? Even though you knew they were right, you still wanted to do it your way. It had to be on your terms. It's the same concept here.
Instead of forcing the idea, here are a few tips that have worked for the families of many of our customers.
A medical alert will give me peace of mind, do it for me
This is the best strategy we can recommend. It is honest and clear. Tell Dad that even though you know that he's healthy and probably would never use the system, that he should get one just to make his family feel better knowing that he has a backup plan just in case there's an emergency. Let him know that you'd rather be proactive than wait for a fall to happen.
Keep the message simple
Most dads hate things that are complicated. In fact most people, including those of us who write this blog, will never read manuals or buy anything that isn't easy to use. It's one of the reasons why technology that is successful is inherently easy to use.
One Call Medical Alert systems, while not as sexy as an iPhone or iPad, are just as easy to use and even easier to get started. Tell Dad that all that's required to is to plug in a power cable and a phone cord. To call for help, all you have to do is push a button and a kind and professional operator will come over the speakerphone.
Cheap kind of insurance
Insurance is expensive; well most insurance is expensive. Next to a mortgage or rent, insurance is usually the second biggest expense a household incurs each month.
Another benefit of a medical alarm is prolonged independence. It's much more inexpensive than assisted living.
When you factor in the costs for medical bills, prescriptions, and other hospital related expenses, less than a dollar a day for top notch medical alert monitoring seems like quite a steal.
But, there are also things you shouldn't say:Don't scare them
Those "fallen and can't get up" commercials should have been left in the '80s. Images of seniors lying on the ground or injured aren't very appealing. It's probably not the best idea to use scare tactics on Dad. He's a great guy, stay positive and focused on the peace of mind it will bring you.
Statistics, Data, Reports, Medical Journals, etc.
As you get older, your chances of falling increase. Dad knows this and he doesn't need to be reminded. Fall statistics are usually the wrong way to go about trying to convince someone to buy a medical alert system.
Sending brochures to their house or giving out their contact information – without them knowing.
We want to help your Dad. We want to give you the peace of mind in knowing that Dad will be well taken care of in an emergency. What we don't want is to come across like we are stalking him or being predatory in our marketing efforts. That just isn't us. We'd love to send you some brochures that you can hand to Dad or get on a call with both of you to answer any questions you might have.
We're here for you, best of luck.