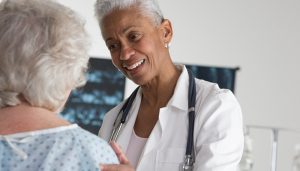 Perhaps your aging parent is moving in with you or nearby so you can take a more active role in caring for her. After you set her up with a housing situation, you'll want to make sure that all the members of her support team are in place—including selecting a doctor.   But how do you find a doctor that you and your parent can trust and agree on? Here are some tips for selecting the right doctor for you and your loved one.  
Consider the doctor's specialty. If you have a family or general practitioner that you're comfortable with, that might be a great place to start. Many people choose doctors based on friend or family recommendations.   If you choose your current doctor, double check that he sees a good amount of older patients and is familiar with medical conditions that older patients experience.
Geriatricians specialize in working with older patients and may make your parent feel more at ease.   Before you select a doctor, you might want to make a list of about three and investigate their practices further. You can then verify their credentials by using tools such as the AMA DoctorFinder. This resource provides basic information on virtually every licensed doctor in the United States. Check to see:
If the practice accepts your parent's insurance
Where the office is located—will it be difficult to travel with your parent?
Is it a large practice—busy offices may have long wait times, which can be uncomfortable for older adults
What are the other doctors in the practice? Could they act as back-ups if your parent's doctor is unavailable, or do they have other specialists your parent might need to visit?
What hospital is the doctor affiliated with? Is it convenient and reputable?
When you and your loved one visit with the doctor, be sure to ask medical questions as well as those that can inform the way you interact with him and his office. For example, if you will be attending visits with your parent, make sure that the doctor is willing to speak with you together about your parent's medical information (with your parent's permission).  
Finding a doctor you trust is critical to maintaining a long-term relationship of care. Your doctor should be the one you go to for all your health and medical questions, so it is imperative you value his opinions and suggestions.   Most importantly, you must feel comfortable when talking to the doctor. If you feel intimidated or unsure of yourself in the presence of the prospective doctor you should consider continuing your search. And, always remember that it is wise to get a second opinion prior to beginning any type of treatment.