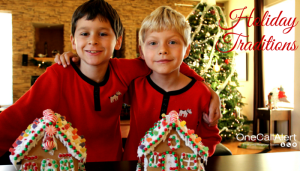 There's one feeling the end of the year sparks among people across this country: a desire to spend quality time with beloved friends and family. For some, annual holiday get-togethers are the only time they get to see extended family. For others, the holidays are opportunities to revisit the past and make new memories. At the heart of many gatherings are traditions that make the holidays feel right.   Over the years our immediate families change. Perhaps your adult children have just married and now you have the in-law family to consider. One way to make the holidays instantly feel familiar is to make new traditions you can practice year after year. Here are our top 10 favorite holiday traditions:  
Holiday desserts.

 

Whether you're a gingerbread house or a cookie-baking family, there's always fun in getting a little messy in the kitchen together! These activities not only bring people together, but they unleash everyone's creativity!
Put on a performance.

 

When I was little, my brother and I and all the kids of the neighborhood put on a play for the parents. You don't have to be a kid to get your theatrics on. Gathering a group to go caroling down your street counts, too.
Enjoy the lights.

 

From houses decked out to elaborate drive-through displays, there are often a lot of ways to view the lights during the holiday season. Some displays are set up in parks so the whole family (including Fido) can experience them on foot.
Read or watch holiday favorites.

 

Each year there are new holiday-themed movies that come out, but there are also some wonderful classics from your childhood that you still love to watch. Or, perhaps you can't get enough of the Grinch or other favorite holiday story.
Get outside.

 

While some parts of the country will be perfect for wintry weather sports like sledding and snow ball fights, the sun and warmth that continues this time of the year are perfect for taking nature walks or playing a friendly game of ball.
Give to others.

 

Families that pool their resources and give back to the community can make a big impact on others who might need a little extra care during the holiday season. Hold a clothing, food or supply drive, or volunteer time at a local charity.
Take a family photo.

 

If you have young children in the group, taking a family photo at the same time each year is a great way to document how they grow. Make it fun by selecting a new theme or color palette each year.
Play a present game.

 

If you have a large family, it can be daunting to purchase presents for every single person. Using a gift exchange game format like White Elephant ensures everyone gets a gift, but no one has to worry about spending a lot. Secret Santa gives everyone an opportunity to learn more about your loved ones.
Craft together.

 

Make ornaments, stockings, candle holders, wreaths, or just about any other holiday decoration. Each year you can select a different person to lead the craft.
Dine in.

 

One of the best ways to gather as a family is around the dinner table. Whether the tradition centers around the same meal year after year, or a new menu is prepared each time, the family is sure to create and share fond memories.
  We're a family company, and the holidays are special for each of us for so many reasons. Here are just  a few of the traditions we love to celebrate.  
I love putting the tree up with my brothers and watching my mom and partner decorate the tree and then seeing the face of my family as they open their gifts and all the great food we get to eat! -James
I love recalling all the special things my mom did to make the magic of Santa last as long as possible. It's only in retrospect, and now that I have kids of my own, that I recognize how much she accomplished. I am blessed that she is still around so I can tell her how much I appreciate everything she did (and still does!) -Holly
One Call Alert Holiday Favorites
Favorite Holiday Foods
Green bean casserole
Chocolate peppermint bark
Homemade holiday cookies
Favorite Holiday Songs
'All I Want for Christmas' by Mariah Carey
'Last Christmas' by George Michael
'Oh Holy Night'