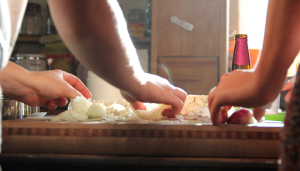 You can't turn on the TV in January without seeing loads of commercials for diet plans. Those that give you special food, those that tell you what not to eat, those that provide supplements—there are all kinds. But if you're serious about eating healthier, the trick is there is no trick. It can be easy to eat healthy and stay healthy as you age.
The US Department of Agriculture (USDA) is the ultimate authority on what foods are best to eat at all stages in your life. As you become an older adult, your nutritional needs change as well as your eating habits. It is important to make sure that the foods you eat offer the right amount of vitamins and minerals.   The Choose My Plate website offers a quick visual guide to understanding the ideal ratio of portions at each meal. While it's not an exact rule, it is a helpful place to start. So once you know what your portions of protein, vegetables/fruit, grains and dairy should look like, how do you make sure you eat the right amounts each day? Staying on track can require a little more than a chart, that's why the USDA also has a suite of tools designed to be used throughout your healthy eating journey.  
Choose My Plate Tools
Daily Checklist

 

by age and calorie intake
Super Tracker food and activity tracker
   Some additional tips include making sure you get plenty of water. As you get older, you might not be as thirsty, so try setting a reminder on your phone periodically to drink a glass of water. You also might have trouble tasting flavors as you age. Be sure to use herbs and spices to make your foods more flavorful and exciting to eat. And finally, cooking at home is a great way to cut back on unnecessary ingredients, because you're in control of the pan, and ensure that foods are cooked properly Here's a fun recipe from the USDA website you can try on your own.  
Prep time: 20 minutes Cook time: 1 hour, 20 minutes Makes: 4 Servings Bread, cheese, and kale make up this savory bread pudding. Bake ahead of time and slice for quick meals and snacks.     Ingredients
1 teaspoon vegetable oil
1 yellow onion (peeled and chopped)
4 large eggs
2 cups low-fat milk
1/2 cup shredded low-sodium mozzarella or cheddar cheese
4 cups bread (stale or dried)
3 cups chopped raw kale
2 cups frozen butternut squash
1/2 teaspoon Kosher salt
  Directions
Preheat the oven to 375°F. Lightly grease the baking pan.
Put a skillet over medium heat and when it is hot, add the oil. Add the onion and cook about 10 minutes, until tender.
While the onion is cooking, put eggs and milk in a bowl and mix until combined.
Add the cheese, bread, kale, squash and salt and mix well. Let the mixture stand at least 15 minutes until the bread absorbs most of the milk.
When the onion has finished cooking, add it to the bread mixture and mix well.
Pour the mixture into the prepared pan and transfer to the oven.
Bake until lightly browned and set, 50-60 minutes. Let stand 15 minutes before serving.
  Notes: It is important to use stale bread that has dried out. If you don't have stale bread, put fresh bread in a preheated 250°F oven and bake until dried, usually about 15 minutes.