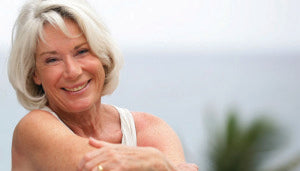 There are countless products and procedures women use to fight signs of aging.
One of the biggest challenges is what to do when your hair starts to gray.
This can happen at different times for women, some as early as 30, others not until after 50. But there's no reason this transition should be a battle. In fact, going gray could actually benefit you.
Nancy Hall writes about how the decision to let your gray hair shine can be a good one.
Gray saves time and money. Imagine how much time and money you spend on coloring your hair. Monthly? What if your roots grow out between colorings? Natural gray locks relieve all of that.
Gray is real. No more hiding your color means you can show your true self. Won't it feel nice just to be you?
Gray is the new black. Chic, timeless, effortless. Gray is for women's hair what the little black dress is for women's style.
Gray goes with everything. Just like black, gray goes with everything. Let it shine against darker colors, let it flow with blues and whites. Anything's game.
Gray is just hair. At the end of the day, you can always dye it again. It's just your hair color and you can change it up as much as you like!
So, if you're ready to take the dive, here are some tips from some stylists on how to ease into the gray hair transition.
Use less color: If your hair's been colored, Bumble and bumble's Marcy Cline recommends switching from a permanent hair color to a demi- or semi-permanent color. "After a few months of using less coverage, it will be less noticeable when you stop coloring all together."
Add highlights or lowlights: Lisa Estridge, of Eliut Salon, says, "The best advice I have is to have your colorist do some lowlights throughout, leaving a little gray. Do less low lights as time goes on—that's the way to do it without having it go through ugly stages."
Go platinum: "You want to go as blonde as possible (even brunettes), to make the transition smooth and easy," says James Corbett, of his eponymous salon.
Weave in More Gray: Kyle White, the lead colorist at Oscar Blandi's salon, says to add gray or silver to the ends of the hair. "You can get an ashy gray coloring with a platinum blonde highlight," he says.