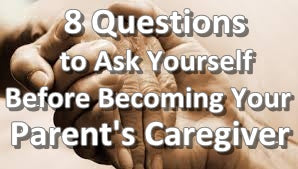 While many of us are off celebrating with our moms, dining out, going to movies, giving her flowers and gifts, etc., many others are in the position of being faced with the all too real possibility of becoming mom's (or dad's) caregiver.  
The following is excerpted from the blog at A Place for Mom entitled "8 Questions to Ask Yourself Before Becoming Your Parent's Caregiver", dated 2/24/2014, and written by Sarah J. Stevenson.  To read the blog post in its entirety, click here.
Are you ready for the demands, responsibilities –and rewards– of becoming a family caregiver? Ask yourself these questions first.
It's an all-too-familiar scenario for millions of adults: Mom and Dad are getting older, and need a little help with their day-to-day activities. Maybe they have a chronic illness and need care they can't provide for themselves. But, they say, please don't put me in a nursing home.
Many seniors prefer to age in place, retaining the dignity that comes with living as self-sufficiently as possible. But when a senior parent's health declines suddenly and they need the help that only a fellow human being can provide, then we may be faced with the critical decision of whether or not to provide that care ourselves.
Many do end up deciding to become family caregivers, a demanding role that often includes coordinating providers, advocating for your loved one, and performing home medical care tasks. In fact, over 65.7 million Americans currently provide care for a family member or loved one, according to the National Alliance for Caregiving, and 36% of those are caring for an elderly parent. As baby boomers begin to retire, those numbers are poised to keep growing.
Being prepared for the role of family caregiver means taking a lot of different factors into consideration. Before even taking on that task, you will need to ask yourself hard questions about how your own availability, stamina, personality and caregiving capabilities will affect your ability to provide effective care—for your loved one and yourself. Asking these questions early will help you prepare for a role that, for many adults, comes as a sudden surprise, leaving them feeling like they aren't ready to be caregivers.
Before Becoming a Parent's Caregiver: Questions to Ask Yourself
The truth is, being a full-time caregiver can affect your physical, mental and emotional health, and it can have unforeseen effects on your relationship with your parent, as well as your other relationships. Being adequately prepared for the potential changes means asking yourself some of the following questions:
Am I really capable of taking care of Mom all by myself? Do I need to hire outside help or consider assisted living?
Do I have the social support and resources I'm going to need?
Will I be able to make time for myself and my family?
How will caregiving affect my physical and mental health?
Will I be able to allow myself to accept help and take breaks?
Am I financially prepared for the extra costs of caregiving?
Will I be able to cut back on work responsibilities during those times when I need to care for my parent?
If a loved one has dementia and can no longer filter their behavior, will I be able to cope with potentially hurtful words or actions?